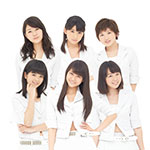 S/mileage 2nd Original Album "2 Smile Sensation" Hatsubai Kinen Event (スマイレージ2ndオリジナルアルバム『(2)スマイルセンセーション』発売記念イベント) will be released on DVD on November 20.
The concert was held on May 26, 2013 at Laforet Roppongi Museum in Tokyo.
The DVD includes the 13 songs performed at the live.
As its title suggests, this event took place for the release of the album 2 Smile Sensation from S/mileage.
Setlist
Shin Nippon no Susume! (新・日本のすすめ!)
Tabidachi no Haru ga Kita (旅立ちの春が来た)
Otona no Tochuu (大人の途中)
Tenshinranman (天真爛漫)
Suki yo, Junjou Hankouki (好きよ、純情反抗期。)
Watashi no Kokoro (私の心)
Yuugare Koi no Jikan (夕暮れ 恋の時間)
Nee Senpai (ねぇ 先輩)
Sayonara Sayonara Sayonara (さよなら さよなら さよなら)
Samui ne (寒いね。)
Yumemiru 15 sai (夢見る 15歳)
Yattaruchan (ヤッタルチャン)
Suki Chan (スキちゃん)