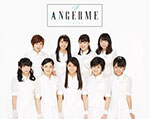 S/mileage's new name is Angerme (アンジュルム).
The new profile photo and the logo of the idol group have been unveiled.
Moreover, it was announced that Angerme's 1st single Taiki Bansei / Otome no Gyakushuu (大器晩成 / 乙女の逆襲) will be released on February 4.
The name was proposed by 2nd generation member Nakanishi Kana. It is the combination of the French words "ange" (angel) and "larme" (tear).
This name change was announced after the arrival of S/mileage 3rd generation members on October 4. Fans could submit their ideas to Hello! Project.
The new official links of the idol group are :