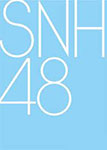 SNH48 Team SII and Team NII were formed on November 11.
SNH48 Team SII consists of members of the 1st and the 2nd generations of the Chinese idol group, while Team NII has only members of the 2nd generation. The captain is Mo Han.
Former AKB48 members Suzuki Mariya and Miyazawa Sae are considered as foreign students and aren't part of any unit.
Complete line-up and details : SNH48