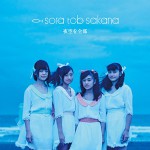 sora tob sakana's new single Yozora wo Zenbu (夜空を全部) will be released on October 27.
This is the 1st single by sora tob sakana under Fujiyama Project Japan. The idol group has just signed under this label.
The MV has been unveiled.
Yozora wo Zenbu is described as a powerful and fun pop song with post-rock and electronic music parts.
The music video was directed by Abe Yuko (Asobisystem). The dance choreography was made by Marika.
The members of sora tob sakana are expressing purity in a natural setting.
The CD includes 3 songs. Only one edition is available.
Tracklist
Yozora wo Zenbu (夜空を全部)
Moon Swimming Weekender
Crouching Start (クラウチングスタート )
Music Video (PV)