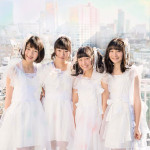 sora tob sakana is a Japanese idol group formed in 2014.
They are also known under the name of Sakana (サカナ), which can be translated to "fish". This symbol appears on their logo.
The unit currently consists of 4 members.
Biography / History
sora tob sakana were created in July 2014. The 5 original members were Sato Mio, Teraguchi Natsuka, Konishi Yuiko, Kazamarei Maraika and Kanzaki Fuka. Their average age was 13 years old.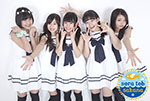 They are the 2nd unit from Frappe Idol Project (ふらっぺidolぷろじぇくと).
They are produced by Terui Yoshimasa (hasuinonasa, Annabel).
The girls performed at the opening act of SiAM&POPTUNe live in July 2014.
Their 1st original song Dash!!!! was released in September 2014.
Konishi Yuiko graduated in February 2015.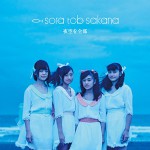 As a result, Yamazaki Mana joined the idol group as a new member a few days later.
sora tob sakana 1st one-man live was held in July 2015.
Sato Mio announced her graduation during this concert.
The idol group signed under Fujiyama Project Japan label in August 2015.
sora tob sakana's 1st single Yozora wo Zenbu (夜空を全部) was released in October 2015.
Their 2nd single Mahou no Kotoba (魔法の言葉) went on sale in February 2016.
You can listen to all sora tob sakana's songs on their official SoundCloud page.
Profile
sora tob sakana
Years active : 2014 – present
Label : Fujiyama Project Japan
Agency : Flying Penguin Records
Members
Teraguchi Natsuka (寺口夏花)
Kazamarei Maraika (風間玲マライカ)
Kanzaki Fuka (神埼風花)
Yamazaki Mana (山崎愛)
Former Members
Konishi Yuiko (小西結子)
Sato Mio (佐藤美緒)
Discography
Singles
10/10/2015 : Yozora wo Zenbu (夜空を全部)
16/02/2016 : Mahou no Kotoba (魔法の言葉)
Albums
Links
News