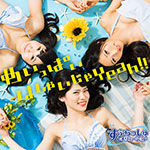 Splash Revolution's debut single Meippai Hashaija Yeah!! (めいっぱいはしゃいじゃYeah!!) was released on June 25.
Splash Revolution (すぷらっしゅレボリューション) is a new sub-unit of HR (Hakata Reboot) consisting of 3 members from the idol group : Kunimoto Marina, Kobayashi Mayu, Yasuda Rei.
The MV has been unveiled.
The lyrics of all songs were written by Yoshida Kazuto. He also composed and arranged the music.
3 editions are available.
Type A comes with a DVD featuring the music video and making-of footage.
Type B includes 2 remix as bonus tracks.
Tracklist
Regular Edition

CD

Meippai Hashaija Yeah!! (めいっぱいはしゃいじゃYeah!!)
Energy
Hare Doki Doki Kimi (晴れドキドキキミ)
Meippai Hashaija Yeah!! (めいっぱいはしゃいじゃYeah!!) (Instrumental)
Type A

CD

Meippai Hashaija Yeah!! (めいっぱいはしゃいじゃYeah!!)
Shunshoku Generation (春色ジェネレーション)
Hare Doki Doki Kimi (晴れドキドキキミ)
Meippai Hashaija Yeah!! (めいっぱいはしゃいじゃYeah!!) (Instrumental)

DVD

Music Video
Making-of
Type B

CD

Meippai Hashaija Yeah!! (めいっぱいはしゃいじゃYeah!!)
Energy
Koiseyo Otome ~Hakkan Kei~ (恋せよ乙女~発汗系~) (more splash mix)
Seishun Lie la night (青春Lie la night) (千夜一夜mix)
Music Video (PV)