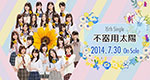 SKE48's 15th single Bukiyou Taiyou (不器用太陽) will be released on July 30.
The list of the 20 Senbatsu members has been unveiled.
An introduction video by the members of SKE48 and the MV have been released.
Bukiyou Taiyou is a summer ballad.
Senbatsu
Team S : Azuma Rion, Futamura Haruka, Kitagawa Ryoha, Matsui Jurina, Miyazawa Sae, Oya Masana, Watanabe Miyuki
Team KII : Furuhata Nao, Furukawa Airi, Oba Mina, Takayanagi Akane, Yamada Nana
Team E : Iwanaga Tsugumi, Kimoto Kanon, Kumazaki Haruka, Matsui Rena, Sato Sumire, Shibata Aya, Suda Akari, Umemoto Madoka
Futamura Haruka, Iwanaga Tsugumi, Kumazaki Haruka, Miyazawa Sae, Sato Sumire, Watanabe Miyuki and Yamada Nana are making their first appearance as Senbatsu.
Kizaki Yuria, Ishida Anna and Yamada Mizuho haven't been selected.
The limited editions come with a ticket for a handshake event, the photo of a member randomly selected and a voting card for SKE48 Request Hour.
Tracklist
Type A

CD

Bukiyou Taiyou (不器用太陽)
Houkago Race (放課後レース) (Team S)
Coming Soon (Boat Peer Senbatsu)
Tomodachi no Mama de (友達のままで)
Bukiyou Taiyou (不器用太陽) (Instrumental)
Houkago Race (放課後レース) (Instrumental)
Coming Soon (Boat Peer Senbatsu) (Instrumental)
Tomodachi no Mama de (友達のままで) (Instrumental)

DVD

Bukiyou Taiyou (不器用太陽) (Music Video)
Houkago Race (放課後レース) (Music Video)
Team S no Kiseki ~SKE48 Hatsu no Sokaku (2013.4.13)→Zepp Nagoya (2014.5.12)~ (Team Sの軌跡~SKE48初の組閣(2013.4.13)→Zepp Nagoya(2014.5.12)~) (Documentary Movie)
Type B

CD

Bukiyou Taiyou (不器用太陽)
Sayonara Kinou no Jibun (サヨナラ 昨日の自分) (Team KII)
Coming Soon (Boat Peer Senbatsu)
Tomodachi no Mama de (友達のままで)
Bukiyou Taiyou (不器用太陽) (Instrumental)
Sayonara Kinou no Jibun (サヨナラ 昨日の自分) (Instrumental)
Coming Soon (Boat Peer Senbatsu) (Instrumental)
Tomodachi no Mama de (友達のままで) (Instrumental)

DVD

Bukiyou Taiyou (不器用太陽) (Music Video)
Sayonara Kinou no Jibun (サヨナラ 昨日の自分) (Music Video)
Team KII no Kiseki ~SKE48 Hatsu no Sokaku (2013.4.13)→Zepp Namba (2014.5.13)~ (Team KⅡの軌跡~SKE48初の組閣(2013.4.13)→Zepp Namba(2014.5.13)~) (Documentary Movie)
Type C

CD

Bukiyou Taiyou (不器用太陽)
Banana Kakumei (バナナ革命) (Team E)
Coming Soon (Boat Peer Senbatsu)
Tomodachi no Mama de (友達のままで)
Bukiyou Taiyou (不器用太陽) (Instrumental)
Banana Kakumei (バナナ革命) (Instrumental)
Coming Soon (Boat Peer Senbatsu) (Instrumental)
Tomodachi no Mama de (友達のままで) (Instrumental)

DVD

Bukiyou Taiyou (不器用太陽) (Music Video)
Banana Kakumei (バナナ革命) (Music Video)
Team E no Kiseki ~SKE48 Hatsu no Sokaku (2013.4.13)→Zepp Sapporo (2014.5.15)~ (Team Eの軌跡~SKE48初の組閣(2013.4.13)→Zepp Sapporo(2014.5.15)~) (Documentary Movie)
Type D

CD

Bukiyou Taiyou (不器用太陽)
Koi Yorimo Dream (恋よりもDream) (Da~su~, Tsu~ma~ & Ni~ta~)
Coming Soon (Boat Peer Senbatsu)
Tomodachi no Mama de (友達のままで)
Bukiyou Taiyou (不器用太陽) (Instrumental)
Koi Yorimo Dream (恋よりもDream) (Instrumental)
Coming Soon (Boat Peer Senbatsu) (Instrumental)
Tomodachi no Mama de (友達のままで) (Instrumental)

DVD

Bukiyou Taiyou (不器用太陽) (Music Video)
Koi Yorimo Dream (恋よりもDream) (Music Video)
SKE48 Shin Team Iseki Kennin Member no Kiseki ~7-nin Sorezore no Shintenchi de no Chousen~ (「SKE48 新チーム移籍・兼任メンバーの軌跡~7人それぞれの新天地での挑戦~」 (Documentary Movie)
Theater Edition

CD

Bukiyou Taiyou (不器用太陽)
Coming Soon (Boat Peer Senbatsu)
Tomodachi no Mama de (友達のままで)
SKE48 15th Single Medley
Bukiyou Taiyou (不器用太陽) (Instrumental)
Coming Soon (Boat Peer Senbatsu) (Instrumental)
Tomodachi no Mama de (友達のままで) (Instrumental)

DVD

Bukiyou Taiyou (不器用太陽) (Music Video)
Houkago Race (放課後レース) (Music Video)
Team S no Kiseki ~SKE48 Hatsu no Sokaku (2013.4.13)→Zepp Nagoya (2014.5.12)~ (「Team Sの軌跡~SKE48初の組閣(2013.4.13)→Zepp Nagoya(2014.5.12)~」documentary movie)
Music Video (PV)
Introduction Video