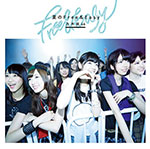 Nogizaka46's 9th single Natsu no Free & Easy (夏のFree&Easy) will be released on July 9.
The list of the 16 Senbatsu members has been unveiled on May 11 on their variety show Nogizaka tte, Doko? (乃木坂って、どこ?).
SKE48's Matsui Rena is in the line-up. The center is still Nishino Nanase.
The annoucement of Nogizaka46's 9th single release was made by captain Sakurai Renka on May 5 during a handshake event held at Pacifico Yokohama.
The MVs have been unveiled.
The limited editions include a DVD with the music videos and bonus footage.
Senbatsu members
1st row : Matsui Rena, Shiraishi Mai, Nishino Nanase, Hashimoto Nana, Matsumura Sayuri
2nd row : Wakatsuki Yumi, Akimoto Manatsu, Sakurai Reika, Fukagawa Mai, Ikoma Rina
3rd row : Eto Misa, Inoue Sayuri, Saito Yuri, Hoshino Minami, Yamato Rina, Hori Miona, Takayama Kazumi
Tracklist
Regular Edition

CD

Natsu no Free & Easy (夏のFree&Easy)
Nanimo Dekizu ni Soba ni Iru (何もできずにそばにいる)
Boku ga Ikanakya Dare ga Ikunda? (僕が行かなきゃ誰が行くんだ?)
Natsu no Free & Easy (夏のFree&Easy) (Off Vocal)
Nanimo Dekizu ni Soba ni Iru (何もできずにそばにいる) (Off Vocal)
Boku ga Ikanakya Dare ga Ikunda? (僕が行かなきゃ誰が行くんだ?) (Off Vocal)
Type A

CD

Natsu no Free & Easy (夏のFree&Easy)
Nanimo Dekizu ni Soba ni Iru (何もできずにそばにいる)
Sono Saki no Deguchi (その先の出口)
Natsu no Free & Easy (夏のFree&Easy) (Off Vocal)
Nanimo Dekizu ni Soba ni Iru (何もできずにそばにいる) (Off Vocal)
Sono Saki no Deguchi (その先の出口) (Off Vocal)

DVD

Natsu no Free & Easy (夏のFree&Easy) (Music Video)
Sono Saki no Deguchi (その先の出口) (Music Video)
Bonus Footage
Type B

CD

Natsu no Free & Easy (夏のFree&Easy)
Nanimo Dekizu ni Soba ni Iru (何もできずにそばにいる)
Mukuchi na Lion (無口なライオン)
Natsu no Free & Easy (夏のFree&Easy) (Off Vocal)
Nanimo Dekizu ni Soba ni Iru (何もできずにそばにいる) (Off Vocal)
Mukuchi na Lion (無口なライオン) (Off Vocal)

DVD

Natsu no Free & Easy (夏のFree&Easy) (Music Video)
Mukuchi na Lion (無口なライオン) (Music Video)
Bonus Footage
Type C

CD

Natsu no Free & Easy (夏のFree&Easy)
Nanimo Dekizu ni Soba ni Iru (何もできずにそばにいる)
Koko ni Iru Ryuu (ここにいる理由)
Natsu no Free & Easy (夏のFree&Easy) (Off Vocal)
Nanimo Dekizu ni Soba ni Iru (何もできずにそばにいる) (Off Vocal)
Koko ni Iru Ryuu (ここにいる理由) (Off Vocal)

DVD

Natsu no Free & Easy (夏のFree&Easy) (Music Video)
Koko ni Iru Ryuu (ここにいる理由) (Music Video)
Bonus Footage
Music Video (PV)