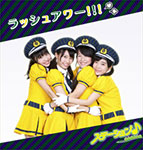 Station♪ will release their new single Rush Hour!!! (ラッシュアワー!!!) on December 18.
It is their first single to be put on sale for almost 10 months.
Only one edition is available. The CD includes one song and its instrumental version.
Furthermore, Station♪ will hold regular live performances at Akiba Drug & Cafe in Tokyo every Thursday until late December.
Tracklist
Rush Hour!!! (ラッシュアワー!!!)
Rush Hour!!! (ラッシュアワー!!!) (Instrumental)
Music Video (PV)