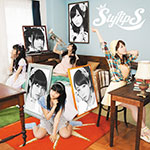 StylipS' new single Junsui na Fujunbutsu (純粋なフジュンブツ) was released on May 21.
This is the 6th single from StylipS.
The music video has been released.
The title song is the opening theme for the anime Mangaka-san to Assistant-san to (マンガ家さんとアシスタントさんと).
The lyrics were written by Hata Aki.
The coupling song Spica is the ending theme for the anime of the same name.
The Artist edition contains 4 songs. It comes with a bonus DVD featuring the music video, its dance version, making-of footage, and a video by each member of Stylips.
The Anime edition only includes only 2 songs and their instrumental versions.
Tracklist
Artist Edition

CD

Junsui na Fujunbutsu (純粋なフジュンブツ)
All You Need Is Dance Feat. Noto Arisa & Matsunaga Maho (All you need is Dance feat.能登有沙 & 松永真穂)
Jelly Beans Diary (Like Cover Girl) Feat. Ito Miku & Toyota Moe (ジェリービーンズ・ダイアリー(Like Cover Girl) feat.伊藤美来 & 豊田萌絵)
Spica
Junsui na Fujunbutsu (純粋なフジュンブツ) (Instrumental)
All You Need Is Dance Feat. Noto Arisa & Matsunaga Maho (All you need is Dance feat.能登有沙 & 松永真穂) (Instrumental)
Jelly Beans Diary (Like Cover Girl) Feat. Ito Miku & Toyota Moe (ジェリービーンズ・ダイアリー(Like Cover Girl) feat.伊藤美来 & 豊田萌絵) (Instrumental)
Spica (Instrumental)

DVD

Junsui na Fujunbutsu (純粋なフジュンブツ) (Music Video)
Junsui na Fujunbutsu (純粋なフジュンブツ) (Dance Style)
Junsui na Fujunbutsu (純粋なフジュンブツ) (Music Video) (Making-of)
Arisa Style
Maho Style
Miku Style
Moe Style
StylipS Style
Anime Edition

CD

Junsui na StylipS (純粋なフジュンブツ)
Spica
Junsui na StylipS (純粋なフジュンブツ) (Instrumental)
Spica (Instrumental)
Music Video (PV)