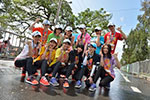 All the members of Super☆Girls participated in Honolulu Half Marathon Hapalua 2014 (ホノルルハーフマラソン・ハパルア2014) in Hawaii on April 14.
The 12 members of Super☆Girls fully ran the distance of 21.0975 km.
Check out some photos of the event.
Before the start, Shimura Rika made a speech in English to encourage the 4632 people participating in the race. "Let's run and finish with a smile", she said.
Mizote Ruka won the 1st place in the female 15-19 category with a time of 2 hours 5 minutes and 19 seconds. Arai Reira came in 2nd position.
Super☆Girls were in Hawaii for their fan club tour. The idol group held a live performance there on April 13.