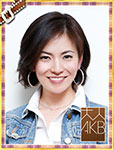 It was announced on April 17 that Tsukamoto Mariko won the Otona AKB48 audition.
Otona AKB48 (大人AKB48) is a project made in collaboration between the idol group and Glico.
Tsukamoto Mariko will perform in a TV CM for the Papico 2014 Spring Campaign. She will also participate in concerts and handshake events along with other members of AKB48.
Audition was opened for women over 30 years. They could be married or single, professionnal or amateur. There were 5066 applicants including former Morning Musume member Ichii Sayaka.
Tsukamoto Mariko is 37 years old. She is a housewife and a mother of two.
A short introduction video has been posted by Glico, the company producing Papico.