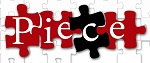 Suzuki Airi (°C-ute) is going to star in the drama Piece.
The drama is based on a manga of the same name by Ashihara Hinako. The story takes place in a high school. It is a mixture of romance and mystery.
The 1st episode will air on October 6 on NTV (Nippon Television).
Cast
Nakayama Yuma (NYC) : Narumi Hikaru
Honda Tsubasa : Suga Mizuho
Matsumura Hokuto (Johnny's Jr.) : Yanai Takashi
Suzuki Airi (°C-ute) : Setouchi Madoka
Nozawa Yuki (Noon Boyz) : Sugawara Yuu
Yasui Kentaro (Johnny's Jr.) : Koike Senpai