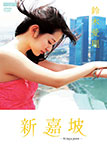 Suzuki Airi's new DVD Singapore (新嘉坡) will be released on June 25.
This is the 8th solo DVD from °C-ute and Buono! member Suzuki Airi.
As its title suggests, the video was made in Singapore in February 2014. It shows Suzuki Airi in various scenes, including some in swimsuit.
This item includes making-of footage from her photobook Kyoumei (共鳴) which is on sale since April 12.