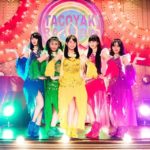 Tacoyaki Rainbow will release their new single Rainbow ~Watashi wa Watashi Yanenkara~ (RAINBOW ~私は私やねんから~) on May 10.
It is the 3rd single major by Tacoyaki Rainbow.
The music video was unveiled.
The single will be available in 5 editions.
The A and B editions will contain only the main song, while those of the C, D and E editions will each contain an additional song.
The DVD of the A edition will contain the MV, its making-of and its dance version.
The blu-ray of the B edition will include a video of Tacoyaki Rainbow's one-man live "Naniwanderland 2016 – Secret tea party", held in Osaka Orix Theater on last November 20.
In addition, the debut album of Tacoyaki Rainbow Maido! Ookini! (毎度おおきに) is on sale since last December.
Tracklist
Type A

CD

Rainbow ~Watashi wa Watashi Yanenkara~ (RAINBOW ~私は私やねんから~)

DVD

Rainbow ~Watashi wa Watashi Yanenkara~ (Music Video)
Rainbow ~Watashi wa Watashi Yanenkara~ (Dance Video)
Rainbow ~Watashi wa Watashi Yanenkara~ (Making Video)
Type B

CD

Rainbow ~Watashi wa Watashi Yanenkara~ (RAINBOW ~私は私やねんから~)

Blu-ray

 2016/11/20 One-man live "Naniwanderland 2016 – secret tea party" at Osaka Orix Theater
Type C

CD

Rainbow ~Watashi wa Watashi Yanenkara~ (RAINBOW ~私は私やねんから~)
Jiyuu! Sou! Freedrom! (じゆう!そう!フリーダム!)
Type D

CD

Rainbow ~Watashi wa Watashi Yanenkara~ (RAINBOW ~私は私やねんから~)
Sunday Discovery
Type E

CD

Rainbow ~Watashi wa Watashi Yanenkara~ (RAINBOW ~私は私やねんから~)
Mix Juice (ミックスジュース)
Music Video (PV)