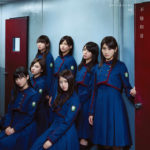 Keyakizaka46 released their 4th single Fukyouwaon (不協和音) on April 4.
The central member is Hirate Yurina.
The MVs were unveiled. Unfortunately, some videos cannot be viewed outside Japan.
The selected (senbatsu) members are : Ishimori Nijika, Imaizumi Yui, Uemura Rina, Ozeki Rika, Oda Nana, Koike Minami, Kobayashi Yui, Sato Shiori, Saito Fuyuka, Shida Manaka, Sugai Yuuka, Suzumoto Miyu, Nagasawa Nanako, Habu Mizuho, Harada Aoi, Hirate Yurina, Moriya Akane, Yonetani Nanami, Watanabe Rika, Watanabe Risa and Nagahama Neru.
Fukyouwaon is an intense electro song.
The single is available in several editions. A special edition is available in digital version.
The DVDs include video clips and personal videos of some members of Keyakizaka46.
Tracklist
Regular Edition

CD

Fukyouwaon (不協和音)
W-Keyakizaka no Uta (W-KEYAKIZAKAの詩)
Eccentric (エキセントリック)
Fukyouwaon (off vocal ver.)
W-Keyakizaka no Uta (off vocal ver.)
Eccentric (off vocal ver.)
Type A

CD

Fukyouwaon (不協和音)
W-Keyakizaka no Uta (W-KEYAKIZAKAの詩)
Hohoemi ga Kanashii (微笑みが悲しい) (Techi & Neru)
Fukyouwaon (off vocal ver.)
W-Keyakizaka no Uta (off vocal ver.)
Hohoemi ga Kanashii (off vocal ver.)

DVD

Fukyouwaon (Music Video)
W-Keyakizaka no Uta (Music Video)
Bonus Individual MVs
Type B

CD

Fukyouwaon (不協和音)
W-Keyakizaka no Uta (W-KEYAKIZAKAの詩)
Tuning (チューニング) (Yuichanzu)
Fukyouwaon (off vocal ver.)
W-Keyakizaka no Uta (off vocal ver.)
Tuning (off vocal ver.)

DVD

Fukyouwaon (Music Video)
Tuning (Music Video)
Bonus Individual MVs
Type C

CD

Fukyouwaon (不協和音)
W-Keyakizaka no Uta (W-KEYAKIZAKAの詩)
Wareta Smartphone (割れたスマホ) (Aozora to MARRY)
Fukyouwaon (off vocal ver.)
W-Keyakizaka no Uta (off vocal ver.)
Wareta Smartphone (off vocal ver.)

DVD

Fukyouwaon (Music Video)
Wareta Smartphone (Music Video)
Bonus Individual MVs
Type D

CD

Fukyouwaon (不協和音)
W-Keyakizaka no Uta (W-KEYAKIZAKAの詩)
Bokutachi wa Tsukiatteiru (僕たちは付き合っている)
Fukyouwaon (off vocal ver.)
W-Keyakizaka no Uta (off vocal ver.)
Bokutachi wa Tsukiatteiru (off vocal ver.)

DVD

Fukyouwaon (Music Video)
Bokutachi wa Tsukiatteiru (Music Video)
Bonus Individual MVs
Special Digital Edition

CD

Fukyouwaon (不協和音)
W-Keyakizaka no Uta (W-KEYAKIZAKAの詩)
Hohoemi ga Kanashii (微笑みが悲しい) (Techi & Neru)
Tuning (チューニング) (Yuichanzu)
Wareta Smartphone (割れたスマホ) (Aozora to MARRY)
Bokutachi wa Tsukiatteiru (僕たちは付き合っている)
Eccentric (エキセントリック)
Music Video (PV)