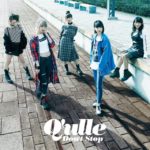 The new single of Q'ulle DON'T STOP was released on April 5.
This is the first major single of Q'ulle.
Indeed, Q'ulle signed with the famous label, Avex Trax, for their major debut.
Check out the MV.
Don't Stop is considered as a rock song.
The single is available in 3 editions. The limited edition DVD contains the clip and /or an additional video.
The CDs are different, depending on the edition.
Tracklist
Regular Edition

CD

Don't Stop
Shout It Out
Don't Stop (Instrumental)
Shout It Out (Instrumental)
"CD+DVD" Edition

CD

Don't Stop
Shout It Out
Don't Stop (Instrumental)

DVD

Don't Stop (Music Video)
Don't Stop / Shout It Out (Making Clip)
Limited Edition

CD

Don't Stop
Shout It Out

DVD

Don't Stop (Music Video)
Music Video (PV)