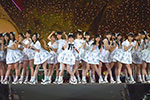 AKB48 Haru Con in National Olympic Stadium ~Omoide wa Zenbu Koko ni Suteteike!~ (AKB48単独 春コン in 国立競技場~思い出は全部ここに捨てていけ!~) will be released on DVD on June 13.
AKB48 Haru Con 2014 was held on March 29-30, 2014 in Tokyo. However, Oshima Yuko's graduation ceremony, which was scheduled on the 2nd day of the live performance, was cancelled and postponed due to a stormy weather.
Check out the teaser trailer for the concert.