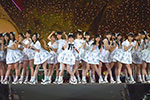 AKB48 Haru Con in National Olympic Stadium ~Omoide wa Zenbu Koko ni Suteteike!~ (AKB48単独 春コン in 国立競技場~思い出は全部ここに捨てていけ!~) will be released on DVD on June 13.
AKB48 Haru Con 2014 was held on March 29-30, 2014 in Tokyo. However, Oshima Yuko's graduation ceremony, which was scheduled on the 2nd day of the live performance, was cancelled and postponed due to a stormy weather.
Check out the teaser trailer for the concert.
AKB48's 36th single Labrador Retriever (ラブラドール・レトリバー) was performed for the first time at this event.
The DVD box contains 2 discs featuring 56 songs. The total duration is about 4 hours.
It comes with a 20-page booklet and a photo of a member of the idol group randomly selected.
It is available on AKB48 website and in AKB shop and café.
Setlist
overture
Korogaru Ishi ni Nare (転がる石になれ)
First Rabbit (ファースト・ラビット)
Aitakatta (会いたかった)
Everyday, Katyusha (Everyday、カチューシャ)
Juuryoku Sympathy (重力シンパシー)
アイドルの夜明け/チームB
Shonichi (初日)
Yobisute Fantasy (呼び捨てファンタジー)
Tadaima Renaichuu (ただいま恋愛中)
Only Today
Bingo!
Seishun Girls (青春ガールズ)
Saigo Bell ga Naru (最終ベルが鳴る)
ボーイフレンドの作り方)
Kuma no Nuigurumi (くまのぬいぐるみ)
Futari Nori no Jitensha (2人乗りの自転車)
Te wo Tsunaginagara (手をつなぎながら)
Maeshika Mukanee (前しか向かねえ)
Give Me Five!
Baby! Baby! Baby!
Kimi no koto ga Suki Dakara (君のことが好きだから)
Kimi to Niji to Taiyou to (君と虹と太陽と)
Boku no Yell (僕のYell)
Confession
Gomen ne Jewel (ごめんね ジュエル)
Kokoro no Hashi no Sofa (心の端のソファー)
Senaka kara Dakishimete (背中から抱きしめて)
Yuuhi wo Miteiru ka? (夕陽を見ているか?)
AKB Festival (AKBフェスティバル)
Hikoukigumo (ひこうき雲)
Nakinagara (泣きながら微笑んで)
Iiwake Maybe (言い訳Maybe)
Zutto Zutto (ずっと ずっと)
Lucky Seven (ラッキーセブン)
Seijun Philosophy (清純フィロソフィー)
Honest Man (オネストマン)
Bokutachi no Kami Hikouki (僕たちの紙飛行機)
Reset
Kaiyuugyo no Capacity (回遊魚のキャパシティ)
AKB48
Oogoe Diamond (大声ダイヤモンド)
UZA
Tenohira ga Kataru koto (掌が語ること)
Manatsu no Sounds Good! (真夏のSounds Good!)
Flying Get (フライングゲット)
Sayonara Crawl (さよならクロール)
Ponytail to Shushu (ポニーテールとシュシュ)
Gingham Checkギンガムチェック
Heavy Rotation (ヘビーローテーション)
Sakura no Hanabiratachi (桜の花びらたち)
– Encore –
Labrador Retriever (ラブラドール・レトリバー)
Shoujotachi yo (少女たちよ)
After Rain
Aitakatta (会いたかった)
Koi Suru Fortune Cookie (恋するフォーチュンクッキー
Video