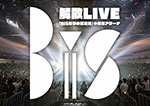 BiS Kaisan Live "BiS Nari no Budokan" (BiS解散Live「BiSなりの武道館」) will be released on DVD and Blu-ray on September 24th.
This event was the final concert of the BiS before the disbandment of the idol group. The girls performed 49 songs non-stop.
The digest and the video of the song Final Dance have been unveiled.