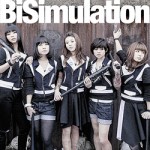 BiS' new single BiSimulation will be released on March 13.
Type A includes a bonus DVD featuring the Live BiS Major Debut Kinen Chokuzen Dai Party "Mada Major Janai Mon" (BiSメジャーデビュー記念直前大パーティ まだメジャーじゃないもん!!) held on July 13, 2012 at Shinjuku Loft.
Type B includes another bonus DVD with the music videos and making-of footage.
The title song was written by Hidaka Toru (The Starbems, ex. Beat Crusaders).
This is the last single of BiS with Wakisaka Yurika before her withdrawal.