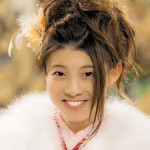 Wakisaka Yurika announced her withdrawal from BiS (Brand-new Idol Society). She will leave the group after BiS one-man live Who Killed Idol? on March 16.
Wakisaka Yurika took this decision due to health problems and to focus on her studies at university. She told that she might be back in 1 year.
BiS' new single BiSimulation will be released on March 13. There will a limited edition featuring Wakisaka Yurika only on the cover.