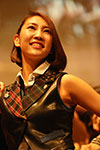 AKB48's Chikano Rina made her debut with JKT48 Team KIII in Indonesia.
Chikano Rina participated in Gingham Check Launching Concert on June 11 at Balai Kartini in Jakarta. As its name suggests, this event was held to celebrate the release of JKT48's 6th single Gingham Check (ギンガムチェック).
She has also opened her official Twitter account.