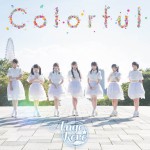 The new single of Ange☆Reve Colorful will be released on October 19.
This is the 3rd DVD single of Ange Reve.
The song Colorful is a pop song dedicated to people who work hard to achieve their goals while keeping positive and those who never give up their dreams.
Check out the short version of the MV below.