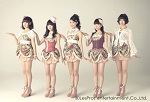 9nine's new single Colorful will be the theme song for the anime Star Driver The Movie (スタードライバー The Movie).
Star Driver the Movie is the adaptation of the anime series Star Driver broadcasted between October 2010 and April 2011 on MBS and TBS in Japan. 9nine performed the opening theme Shining☆Star and the ending theme Cross Over for this series. The film will be released in Japanese theaters on February 9.
9nine's single Colorful will be released on February 6.