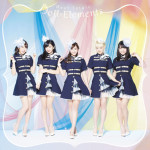 The 8th single of Doll☆Elements Dear Future will be on sale on April 13th.
It's also the 6th major single of the idol group. It marks a change on its discograpghy, (the names of the first major singles beginning by "Kimi ni…" or "Kimi no…")
The song was sung for the first time in live on December 29th.
Check out the clip.