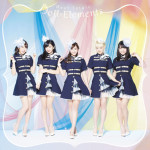 The 8th single of Doll☆Elements Dear Future will be on sale on April 13th.
It's also the 6th major single of the idol group. It marks a change on its discograpghy, (the names of the first major singles beginning by "Kimi ni…" or "Kimi no…")
The song was sung for the first time in live on December 29th.
Check out the clip.
The single will be available in several editions : a regular one and five limited ones A, B, C, D and E. The covers are different on each edition. Those of the limited editions represent one member of the group.
The single contain three new songs : the title song Dear future, two new B-side songs. All the editions will contain the same tracklist.
Furthermore, the 2nd album of Doll Elements Doll Magic is on sale since last December.
Tracklist
CD

Dear Future
Higher
Hoka (他)
Dear future (Instrumental)
Higher (Instrumental)
Hoka (Instrumental)
Music Video (PV)