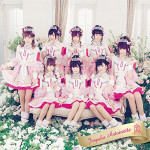 Houkago Princess' 2nd major single Junpaku Antoinette (純白アントワネット) will be on sale on February 17th.
HouPri members are wearing white and pink Marie-Antoinette dresses in the MV and on the cover artwork.
The scene takes place in an imaginary Palace of Versailles.
The title song theme is "White Day". This event occurs one month after Valentine's Day in Japan. Boys who received chocolate are expected to return the favor by giving gifts to girls.
10 versions are available, including one for each member of Houkago Princess.
Moreover, the idol group is going to celebrate Odagiri Nana's 26th birthday and the release of this single by holding a live performance at Shibuya Tsutaya O-East on February 18th.
Tracklist
CD

Junpaku Antoinette (純白アントワネット)
Sakura Saku (桜咲く)
Junpaku Antoinette (Instrumental)
Sakura Saku (Instrumental)
DVD

Junpaku Antoinette (Music Video)
Music Video (PV)