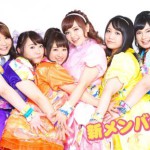 Pottya announced that Takahashi Yuka had left the idol group on February 2nd.
On Pottya official website, the staff explained that she committed a serious breach of contract.
Takahashi Yuka withdrew simultaneously from the agency to which the group belongs.
No further details have been given but, as you probably already know, in the idol world a breach of contract often means dating ban violation.
Takahashi Yuka was a member of Pottya since November 2015. She is the green one on the picture below.