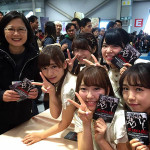 January 30th and 31st marked Starmarie's 7th live in Taiwan. They performed most recently at Fancy Frontier Cosplay Convention at Taipei Expo Park.
Most notably, guest of honor Taiwan's newly elected president, Tsai Ing-wen, was thrilled by Nakane Monya initiating conversation in Chinese. « You're an idol from Japan? ». Tsai Ing-wen remarked on Nakane Monya's language ability as the idol group promoted their March 20 5th solo show at Taipei Pipe Live Music.
Taiwanese media flashbulbs went off as Starmarie presented President Tsai Ing-wen gifts including their single, Mekurumeku Yuuki! (the ending theme of TV Tokyo's anime, Card Fight!! Vanguard G), and took commemorative photos together. Shots from this scene also made it on to local TV.
Performing in the afternoon, Starmarie took to the stage with Mekurumeku Yuuki!, and Vocaloids in Love, a story about – as the title suggests – a vocaloid software and Vocaloid P falling in love. The girls delighted the long lines of swarming of fans at the venue.
In the evening of January 30th and 31st, Stamarie participated in live events at Taipei's Jack's Studio along with Sakai Noriko and Shinozaki Ai. After their return to Japan, the idol group will perform a solo show at Tokyo's Shibuya Tsutaya O-East on February 19th, and another solo show in Taiwan on March 20th. The goal is for all 2016 solo shows to sell out.