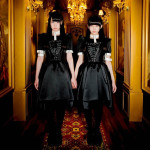 Jyujyu's new album Ikenie (イケニエ) will be released on February 23rd.
This is the 1st album from Jyujyu, an idol group consisting of Neu and Shirai.
The CD contains 13 tracks including their latest singles idoll, Zero (零), Gekkou Pierrot (月光ピエロ)., and new songs.
The cover artwork was made by illustrator Imai Kira.
The members of the idol group are wearing gothic lolita black dresses designed by Angelic Pretty fashion brand.
Furthermore, Jyujyu 2nd One-Man Live will be held on March 3rd at Tokyo Kinema Club.
Tracklist
Gekkou Pierrot (月光ピエロ)
Itoshisugite (イトシスギテ)
Endcape (エンドケイプ)
Tsubuyaki (つぶやき)
Kono Sekai Yami (コノ世界・闇)
idoll
Ancient Fermenting Evil (アンシェント・ファーメンティング・イービル)
Ashita wa Mamono (あたしはMamono)
Zero (零)
Shoku (食)
Rengoku (煉獄)
Ikenie (イケニエ)
Anemone (アネモネ)