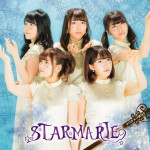 Starmarie's new single Mekurumeku Yuuki (メクルメク勇気!) will be released on August 19.
It is the ending theme song for the anime Card Fight!! Vanguard G (カードファイト!! ヴァンガードG) which will start airing on TV Tokyo on July 17.
The short version of the MV has been unveiled.
Throughout the seven years since their formation, Starmarie's Japan-based fans have begged for the girls to sing the theme song for an anime series. The members of the idol group said of the Card Fight!! Vanguard G tie-in : "This is a huge chance for Starmarie. We're going to sing the best we can to bring a lot of energy to Vanguard!".
Starmarie are big fish in a big pond of an estimated 3,500 Japanese girl idols, with their breakthroughs into international markets.
Starmarie's new single Mekurumeku Yuuki will be released with four different album covers. The first cover is an anime illustration designed exclusively for Mekurumeku Yuuki. Additionally, the CDs contain freebie Card Fight!! Vanguard PR cards (one per cover variety for all four album cover designs) and include Card Fight!! Vanguard Wakusei Taisen Item Code (valid through November 30, 2015).
In the music video, the members of Starmarie are walking in the forest. They are wearing white dresses.
The video was produced by Matsumoto Takuya and directed by Oneda Hidetoshi. Director of photography Erik Thomasson came especially from San Francisco.
The lyrics of Mekurumeku Yuuki were written by Matsui Yohei. The music was composed and arranged by Asada Yusuke.
The coupling song Princess to Comedian was written by yusuke.t and composed by Yoshioka Daishi.
Furthermore, the idol group is going to hold live performances in Manila, Philippines, on June 6-7.
Starmarie Asia Tour 2015 ~Fantastic final concert will take place on June 22 at Tsutaya O-East, Tokyo.
Tracklist
Mekurumeku Yuuki! (メクルメク勇気!)
Princess and Comedian (プリンセスとコメディアン)
Mekurumeku Yuuki! (Instrumental)
Princess and Comedian (Instrumental)
Music Video (PV)