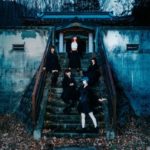 Necronomidol released their 2nd album Deathless on February 22.
They also unveiled the MV for the song Ithaqua. In this one, Necronomidol are in a forest, standing in the deep snow, and their voices echo hauntingly through the freezing winter air alongside the atmospheric sound of black metal.
This is the first album featuring new members Imaizumi Rei and Tsukishiro Himari.