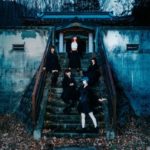 Necronomidol released their 2nd album Deathless on February 22.
They also unveiled the MV for the song Ithaqua. In this one, Necronomidol are in a forest, standing in the deep snow, and their voices echo hauntingly through the freezing winter air alongside the atmospheric sound of black metal.
This is the first album featuring new members Imaizumi Rei and Tsukishiro Himari.
This album is sold in 2 editions named "Nex" and "Sanguis". It contains a total of 10 songs including Ithaqua.
The DVDs of these editions will contain the videos of the concerts of Necronomidol made in 2015 and 2016.
Tracklist
CD

End of Days
4.7L
Skulss In The Stars
Keres Thanatoio
Chunking Redline (重慶REDLINE)
Hexennacht
Nepenthe
Ithaqua
Nex Edition DVD

2015/6/30 2nd Oneman "Anno Umbrae"
2015/12/14 3rd Oneman "Tenebrare Invictus"
Sanguis Edition DVD

2016/6/30 4th One-man "Tenebrae Ascendant"
Music Video (PV)