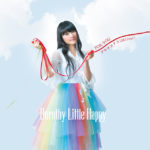 The new single of Dorothy Little Happy will be on sale on May 31.
It is entitled For You / Demo Sayonara (2017 ver.) (For You/デモサヨナラ(2017 ver.)) and will be released under the label Otodama Records.
This single is for the first time performed by one member only. Indeed, Mari is the only member of the idol group to be active, Kana is on hiatus since February for health issues. She is currently receiving medical treatment.