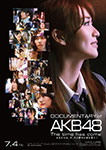 Documentary of AKB48 The Time Has Come 少女たちは、今、その背中に何を想う? will be released on July 4 in Japan.
This is the 4th episode of the Documentary of AKB48 series. It follows the history of the idol group during one year between July 2013 and 2014.
A new movie trailer has been released.