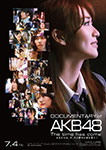 Documentary of AKB48 The Time Has Come 少女たちは、今、その背中に何を想う? will be released on July 4 in Japan.
This is the 4th episode of the Documentary of AKB48 series. It follows the history of the idol group during one year between July 2013 and 2014.
A new movie trailer has been released.
Documentary of AKB48 The Time Has Come is mainly focused on Oshima Yuko's graduation and on the AKB48 Senbatsu General Election 2014 (AKB48 選抜総選挙 2014) which will be held in June.
The film includes behind-the-scenes footage and interviews with the members of the idol group from Akihabara.
It is produced by Akimoto Yasushi. The director is Takahashi Eiki who had already worked on the previous episodes of the series.
A special website has been opened : http://www.2014-akb48.jp/
Video (Trailer)