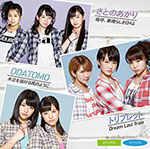 Hello! Project announced the creation of 3 new idol groups : Satonoakari (さとのあかり), Triplet (トリプレット) and Odatomo.
These 3 units are part of Satoyama and Satoumi Movement.
They will release together the single Aa, Subarashiki Nichinichi yo / Dream Last Train / Kodachi wo Nukeru Kaze no you ni (嗚呼、素晴らしき日々よ / Dream Last Train / 木立を抜ける風のように) (Satonoakari, Triplet, Odatomo) on April 23.