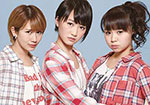 Triplet (トリプレット) is a Japanese idol group formed in March 2014.
It consists of 3 members : Kudo Haruka (Morning Musume '14), Okai Chisato (°C-ute) and Takagi Sayuki (Juice=Juice).
Triplet is part of Hello! Project, Satoyama and Satoumi Movement.
The idol group is going to release its debut single Dream Last Train in April 2014 along with Satonoakari (さとのあかり) and Odatomo.
Profile
Triplet (トリプレット)
Years active : 2014 – present
Label : –
Agency : Up-Front
Members
Kudo Haruka (工藤遥)
Okai Chisato (岡井千聖)
Takayagi Sayuki (高木紗友希)
Discography
Singles
23/04/2014 : Aa, Subarashiki Nichinichi yo / Dream Last Train / Kodachi wo Nukeru Kaze no you ni (嗚呼、素晴らしき日々よ / Dream Last Train / 木立を抜ける風のように) (Satonoakari, Triplet, Odatomo)
Albums
Links
News