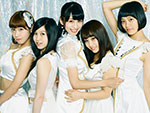 Fujita Akari and Noda Reina joined GALETTe as new members.
Fujita Akari (藤田あかり) is a former member of Party Rockets. She graduated in July, but she has finally decided to pursue her career with a new idol group.
Noda Reina (野田怜奈) was previously part of Happy Dance. She served as backup dancer for Dorothy Little Happy.