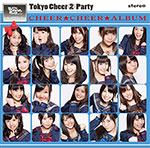 Tokyo Cheer2 Party's new album Cheer Cheer Album (チアチアルバム) will be released on December 25.
This is the 1st album from Tokyo Cheer2 Party. It contains 16 songs includes their latest singles and 2 bonus tracks.
2 editions are available : one with a normal cover, and another one with a Christmas cover. The tracklist is the same for both of them.