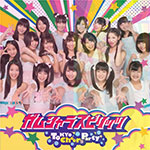 Tokyo Cheer2 Party's new single Gamushara Spirits (ガムシャラス­ピリッツ) will be released on June 26.
This is Tokyo Cheer2 Party's major debut single under Victor Entertainment label.
It is also their first CD featuring the 3rd generation members Ando Akane, Bernstein Oribiya, and Yamada Maho.
Each edition has different coupling songs and cover jackets. The limited editions include a bonus track which is a self-introduction by the members of team 1 or 2.
Tracklist
Regular Edition
CD

Gamushara Spirits (ガムシャラスピリッツ)
Koi no Kyori (恋の距離)
Manabi no Michi (学びの道)
Gamushara Spirits (ガムシャラスピリッツ) (Instrumental)
Type A & B
CD

Gamushara Spirits (ガムシャラスピリッツ)
Koi no Kyori (恋の距離)
Manabi no Michi (学びの道)
Gamushara Spirits (ガムシャラスピリッツ) (Instrumental)
1 Han no Jikoshoukai! (1班の自己紹介!)
Type C & D
CD

Gamushara Spirits (ガムシャラスピリッツ)
Koi no Kyori (恋の距離)
Manabi no Michi (学びの道)
Gamushara Spirits (ガムシャラスピリッツ) (Instrumental)
2 Han no Jikoshoukai! (2班の自己紹介!)
Edition : Regular / Type A – B – C – D
Video (Live)