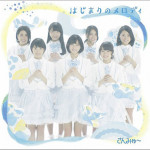 The new single of Sunmyu entitled Hajimari no Melody (はじまりのメロディ) will be on sale on next March 18.
This is the 8th single of Sunmyu and its first as a septet. Indeed, Kyogoku Tomoka left the idol group on last January 17.
The MV and the tracklist were revealed. The song Hajimari no Melody was witten by Mineko and composed by Kinoshita Keigyo.