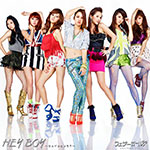 Weather Girls' new single Hey Boy ~Weishenme?~ (Hey Boy~ウェイシェンモ?~) will be released on November 20.
Dara, who has just left the idol group, won't participate in the promotional activities for the 4th single of Weather Girls. The word "weishenme" in the title means "why" in Taiwanese.
The limited editions comes with a DVD with the music video and bonus footage. The regular edition includes both coupling tracks.