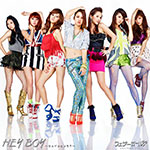 Weather Girls' new single Hey Boy ~Weishenme?~ (Hey Boy~ウェイシェンモ?~) will be released on November 20.
Dara, who has just left the idol group, won't participate in the promotional activities for the 4th single of Weather Girls. The word "weishenme" in the title means "why" in Taiwanese.
The limited editions comes with a DVD with the music video and bonus footage. The regular edition includes both coupling tracks.
Moreover, it will be the ending theme song for the variety program Attack Shimasu kedo Nani ka? (アタックしますけど何か?) airing on Tokyo MX. The members of Weather Girls do various challenges in this TV show.
Regular Edition
CD

Hey Boy ~Weishenme~ (Hey Boy~ウェイシェンモ?~)
OMG!
Loving Pass~恋のパスワード~ (Chinese Version)
Limited Edition Type A
CD

Hey Boy ~Weishenme~ (Hey Boy~ウェイシェンモ?~)
OMG!
Hey Boy ~Weishenme~ (Hey Boy~ウェイシェンモ?~) (Instrumental)
OMG! (Instrumental)
DVD

Hey Boy ~Weishenme~ (Hey Boy~ウェイシェンモ?~) (Music Video)
Behind the Scene
Limited Edition Type B
CD

Hey Boy ~Weishenme~ (Hey Boy~ウェイシェンモ?~)
Loving Pass~恋のパスワード~ (Chinese Version)
Hey Boy ~Weishenme~ (Hey Boy~ウェイシェンモ?~) (Instrumental)
Loving Pass~恋のパスワード~ (Instrumental)
DVD

Weather Girls Hajimete no Okinawa (ウェザーガールズはじめての沖縄)
Music Video (PV)