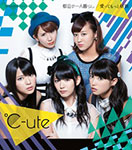 °C-ute's 33rd single Tokai no Hitorigurashi / Aitte Motto Zanshin (都会の一人暮らし / 愛ってもっと斬新) will be released on November 6.
It is a double A-side single.
6 editions are available. They include 5 tracks.
The limited editions come with a bonus DVD featuring various versions of the music videos and making-of footage. They also include an application card for a handshake event.
Check out the music videos.
Type A
CD

Tokai no Hitorigurashi (都会の一人暮らし)
Aitte Motto Zanshin (愛ってもっと斬新)
Please, Love Me More!
Tokai no Hitorigurashi (都会の一人暮らし) (Instrumental)
Aitte Motto Zanshin (愛ってもっと斬新) (Instrumental)
DVD (Limited Edition)

Tokai no Hitorigurashi (都会の一人暮らし) (Music Video)
Tokai no Hitorigurashi (都会の一人暮らし) (Dance Shot Ver.)
Type B
CD

Tokai no Hitorigurashi (都会の一人暮らし)
Aitte Motto Zanshin (愛ってもっと斬新)
Yuuwaku no Kyuujitsu (誘惑の休日)
Tokai no Hitorigurashi (都会の一人暮らし) (Instrumental)
Aitte Motto Zanshin (愛ってもっと斬新) (Instrumental)
DVD (Limited Edition)

Aitte Motto Zanshin (愛ってもっと斬新) (Music Video)
Aitte Motto Zanshin (愛ってもっと斬新) (Dance Shot Ver.)
Type C
CD

Tokai no Hitorigurashi (都会の一人暮らし)
Aitte Motto Zanshin (愛ってもっと斬新)
Please, Love Me More!
Tokai no Hitorigurashi (都会の一人暮らし) (Instrumental)
Aitte Motto Zanshin (愛ってもっと斬新) (Instrumental)
DVD

Tokai no Hitorigurashi (都会の一人暮らし) (Close-up Ver.)
Aitte Motto Zanshin (愛ってもっと斬新) (Close-up Ver.)
Tokai no Hitorigurashi (都会の一人暮らし) (Making-of)
Aitte Motto Zanshin (愛ってもっと斬新) (Making-of)
Type D
CD

Tokai no Hitorigurashi (都会の一人暮らし)
Aitte Motto Zanshin (愛ってもっと斬新)
Yuuwaku no Kyuujitsu (誘惑の休日)
Tokai no Hitorigurashi (都会の一人暮らし) (Instrumental)
Aitte Motto Zanshin (愛ってもっと斬新) (Instrumental)
Music Video (PV)