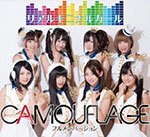 Camouflage's new single Real Kininaru Girl (リアルキニナルガール) will be released on October 23.
10 editions are available : 2 with all members of the idol group, and an individual one for each member. They have the same tracklist, only the cover jacket is different.
It is the 3rd single from Camouflage.
Check out the music video.
It is the ending theme song for the show TV Asahi Portal ANN News & Sports (ポータルANNニュース&スポーツ) in October.
Tracklist
CD

Real Kininaru Girl (リアルキニナルガール)
Susume! We Are Camouflage Gekijou!? (進め!We Areカモフラ劇場!?)
Koi ni Jigenbakudan (恋の時限爆弾)
Real Kininaru Girl (リアルキニナルガール) (Instrumental)
Susume! We Are Camouflage Gekijou!? (進め!We Areカモフラ劇場!?) (Karaoke)
Music Video (PV)