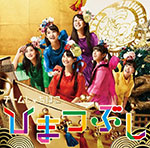 Team Syachihoko's 1st album Himatsubushi (ひつまぶし) was released on August 20.
The album contains 13 songs including Team Syachihoko's latest singles Otome Juken Sensou, Shuto Iten Keikaku, Ai no Chikyuu-sai, Iikurashi and new songs.
The MV for Yoroshiku Jinrui and a video of the members of the idol group talking about their songs have been unveiled.