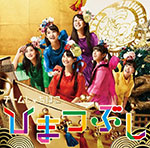 Team Syachihoko's 1st album Himatsubushi (ひつまぶし) was released on August 20.
The album contains 13 songs including Team Syachihoko's latest singles Otome Juken Sensou, Shuto Iten Keikaku, Ai no Chikyuu-sai, Iikurashi and new songs.
The MV for Yoroshiku Jinrui and a video of the members of the idol group talking about their songs have been unveiled.
The theme of the artwork is "the goddesses of fortune".
This album is produced by Koide Yusuke (Base Ball Gear).
The limited editions come with either a 36-page photobook a bonus DVD featuring some videos of the concert Tencho Summit!!! ~Arigato wo Tsutaekirenakute~ held at Nakano Sunplaza on May 1, 2014.
Furthermore, Team Syachihoko is going to hold its 1st live performance at Nippon Budokan, Tokyo, on August 28. The concert is titled Syachi-sama 2014 ~Kamigami no Matsuri~ (しゃちサマ2014~神々の祭り~).
Tracklist
CD

Space Himatsubushi (Spaceひつまぶし) supported by Zen-La-Rock
Shuto Iten Keikaku (首都移転計画)
Dakishimete Anthem (抱きしめてアンセム)
Ndatte!! (んだって!!)
Ai no Chikyuu-sai (愛の地球祭)
Iikurashi (いいくらし)
I Don't Care (アイドンケア)
Akamiso Blood (赤味噌Blood)
colors
Akeboshi (明け星)
Yoroshiku Jinrui (よろしく人類)
Country Girl (カントリーガール)
Otome Juken Sensou (乙女受験戦争)
DVD

OEOEO
Enjoy Jinsei (エンジョイ人生)
Otome Juken Sensou (乙女受験戦争)
Pizza Desu! (ピザです!)
Mo Chotto Hashire!!! (もーちょっと走れ!!!)
Video