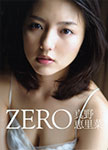 Mano Erina's new photobook Zero will be released on August 27.
This is the first photobook of Mano Erina for almost one year.
The theme is a lonely girl living in the countryside without knowing the rest of the world. She has a feeling of nostalgia and healing. She is trying to do her best to discover the city to find happiness.
The book includes photos of Mano Erina wearing various costumes (swimsuit, yukata, …).
Mano Erina is 23 years old. She was recently starring in the movie The Next Generation Patlabor.
There will be handshake events with the former member of Hello! Project on August 30 at Books Hoshino, Nagoya, and on August 31 at Bunkyodo, Shibuya, Tokyo.